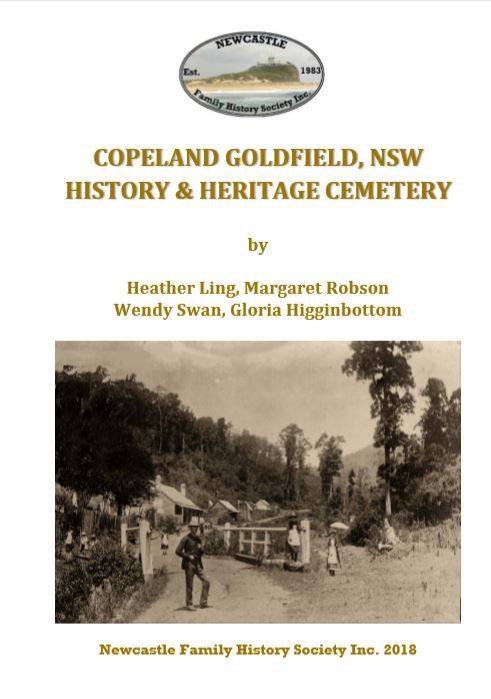 Copeland Goldfield History and Heritage Cemetery
Format: BOOK
The early history of Copeland including the obituaries of former residents buried in Copeland Cemetery.
The town of Copeland (formerly Back Creek), located north-west of Gloucester and 142 km from Newcastle, was officially proclaimed by Sir Henry Parkes in 1879, some three years after it was recorded that alluvial gold had been found in the area. The news quickly spread and many people, hoping to make quick and easy fortunes without expending too much capital moved to the new field.
A large number of miners were disappointed because the alluvial gold was quickly depleted and was replaced by the more labour and capital intensive shaft mining. The peak years for the field were relatively short, but despite fluctuations the gold returns, Copeland developed from a humble settlement into a thriving township where people put down roots and raised their families. By the last decades of the nineteenth century the mining situation was depressed, which in turn affected the town and its people, and by the mid-twentieth century Copeland was almost deserted, with some optimistic fossickers continuing to try their luck. The region, now known as Copeland State Conservation Area, had a resurgence towards the end of the twentieth century with its development as a tourist attraction.
This publication relates the early history of Copeland and its social fabric. It is illustrated with numerous photographs of the village and its citizens and includes the obituaries of 117 former residents buried in Copeland Cemetery as well as 14 children interred in an undocumented location near the Barrington River.