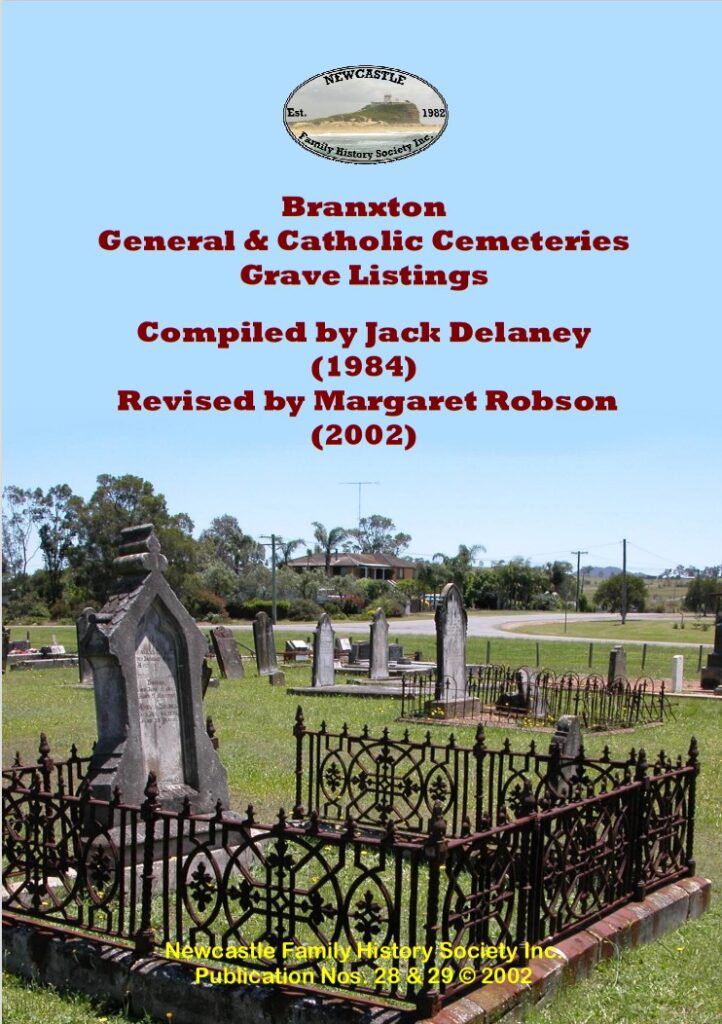 Branxton General & Catholic Cemeteries, NSW
Format: BOOK
Burials in both the Branxton General Cemetery and Catholic Cemetery.
Branxton is a country town in the Hunter Valley between Maitland and Singleton. The area was first known as Farmborough and later as Black Creek. From the 1800s mostly convict timber-getters travelled up the Hunter River from Newcastle to fell timber. Land was granted in the area in the early 1820s and over time the area was cleared and vineyards developed and thrived. The population increased in the 1860s when coal mining commenced. Mining in the area has now ceased but Branxton remains a farming district.
Branxton General Cemetery dedicated in 1853 but containing earlier burials, was originally known as Branxton Church of England Cemetery. Branxton Catholic Cemetery lies beside St. Brigid's Roman Catholic Church. The oldest headstone dates to 1840 and it is estimated that the cemetery was established somewhere between 1820 when settlement first began and 1840.
Historian Jack Delaney surveyed both cemeteries in 1984. He recorded any existing headstones as well as transcribed information from the gravedigger's records and the Court of Petty Sessions records. He identified many unlocated burials where no headstone can be located. John gave permission to use his work in this publication. Cessnock City Council assisted with maps and plans and NFHS sourced and included other information such as further burials, photographs and parish records and compiled the information.
Both cemeteries are indexed and the publication also contains a combined index.